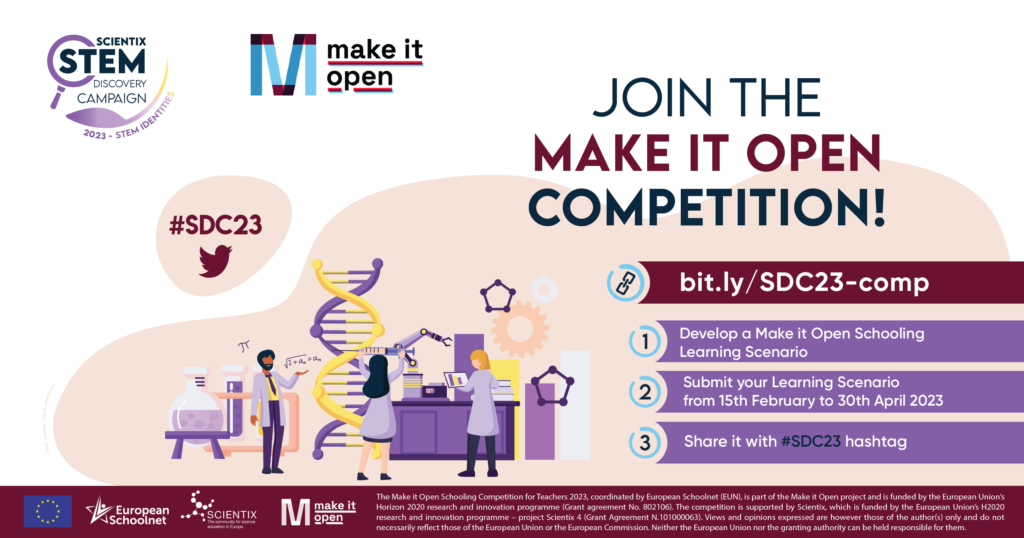 Project news
Make it Open Schooling competition
Are you a teacher interested in designing Learning Scenarios including Open Schooling activities? Join the Make it Open Teachers' Competition and don't miss the opportunity to take part in an exclusive Science Project Workshop at European Schoolnet headquarters, in Brussels!
Unleash your creativity and share your innovative Open Schooling approach in teaching & learning. Join now!
Objectives
The Make it Open (MiO) Schooling Competition for Teachers 2023 will:
Foster the use of an Open Schooling approach to teaching and learning in primary and secondary education
Increase awareness of the value and benefits of such an innovative pedagogical approach
Date and registration
The competition runs from 15 February to 30 April 2023 and it's open to all primary and secondary school teachers as well as educators who are interested in designing Learning Scenarios including Open Schooling activities.
Candidates must work in countries of the European Union or associated to the European Union and have a legal residence in one of these.
To submit your entry, follow the step-by-step guide in the competition Terms & Conditions!
How to participate
To participate in the Competition, teachers and educators need to submit an original Learning Scenario – in English – including at least one Open Schooling activity.
To build their Learning Scenario for submission, participants are invited to use the Open Schooling Navigator, which has been designed to guide educators into creating Open Schooling activities. With the use of the Open Schooling Navigator, participants are expected to design a series of lessons/activities that will engage students into real-life problems and with the local community.
Two tutorials on the use of the Open schooling Navigator are available here:
Behind the competition 
Make it Open combines the philosophy of the maker movement with the inquiry-based approach of citizen science and the concept of Open Schooling to make science learning more accessible and transform schools from traditional educational institutions into community partnerships.
The competition is coordinated by European Schoolnet (EUN) and takes place under the 2023 STEM Discovery Campaign, which is a joint international initiative organised by Scientix to celebrate careers and studies in the fields of Science, Technology, Engineering and Mathematics (STEM).